Snow Damage, Ice Damage, and Winter Storms – Commercial Insurance Claims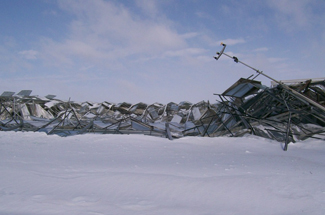 A winter storm can bring with it sleet, ice, high winds, and heavy snow, which can result in sudden unexpected property damage. Feet of heavy wet snow can cause roofs and structures to collapse; high winds can tear siding; and icing can down trees and power lines. As large commercial buildings often have flat roofs, they are more susceptible to collapse, thereby increasing their chances of suffering damage after a storm.
If your business has been damaged due to a winter storm, make one of your first calls be to Adjusters International. With over 40 offices throughout the United States, our public adjusters are seasoned experts in dealing with the damages wrought by snow and ice.  We are experts in the property insurance claims process, and we take pride in helping our clients achieve a full financial recovery. Starting with a thorough investigation of your property loss, we will lead you through the entire claim filing process—accurately preparing, documenting and submitting your insurance claim.
If you are wondering if your snow and ice damage is covered by your insurance policy, contact the experienced public adjusters at Adjusters International. We provide personalized service and proven expertise in settling your winter storm damage insurance claim.
Adjusters International can Help!
Contact us at 800.426.0677 or visit our Contact Us page.