Fire Insurance Claims Help
 

…I want you to know that I'm a typical American home-owner, never had a loss in over 50 years of premium paying, and what a terrific blessing it was to hook up with your organization! Helpless in despair, really not thinking clearly, AIPNW came my way and I resisted contracting with your firm for a time, believing I could go "head to head" with a huge insurance cartel …silly, unarmed guy! Please, use my recommendation to encourage the haughty to consider how truly "David versus Goliath" the claim settlement process is. In such possibly nasty negotiations, the endless cataloguing of every item I owned, how could I have thought I could do it better than you people who take a modest slice to accomplish so much for the ill-equipped? …
George B. Jay, Homeowner
Bow, WA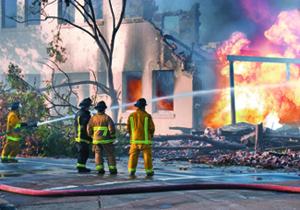 Recovering from a fire in your home can be an overwhelming process. Even the smallest of fires can lead to a complicated residential insurance claim, especially when the additional damages caused by smoke and water are factored in. The majority of policyholders are not experts in insurance terminology so the claims process can often turn the recovery into a painful and frustrating experience. Public adjusters can help to alleviate this pain.
When you enlist the assistance of the public adjusters at Adjusters International, you are turning your fire insurance claim over to someone with years of experience in successfully preparing, documenting, and settling property damage claims. Our public adjusters know the ins-and-outs of the fire insurance claims process and will be there with you every step of the way. With a public adjuster on your side, you can ensure that every detail of your claim is properly prepared and submitted.
Our public adjusters work exclusively for the policyholder—not the insurance company—enabling us to act in your best interest. As your advocate, we ensure that both you and your residential fire damage claim are treated fairly by the insurance company. Contact Adjusters International today, and entrust your fire insurance claim into the very capable hands of our public adjusters. Let our team secure you the most comprehensive financial recovery under the terms of your property insurance policy.
Adjusters International can Help!
Call us at 800.426.0677 or visit our Contact Us page.