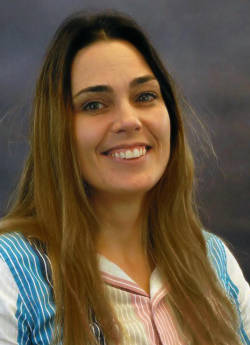 Erin Jordan
Professional Construction Cost Estimator
Honolulu
500 Ala Moana Boulevard, Suite 400
Honolulu, HI 96813
Personal Profile
Erin Jordan has been with Adjusters International since 2004. As a Professional Construction Cost Estimator, she inspects the damaged property of clients, focusing on documenting building structure damage. Her estimates are detailed, covering the footprint, interior, exterior and finishes so that everything that was lost is documented. It is her responsibility to accurately estimate the cost to replicate, in pre-loss condition, what was lost or damaged. Her work supports Adjusters International's public adjusters as they compile claims to present to insurance companies on behalf of clients.
Frequently, it is Erin's role to pore over the estimates and repair proposals provided by the insurance companies in order to determine what is missing, mispriced, or where a substitution has been provided for materials that existed at the time of the loss.
Erin has worked with clients suffering from numerous catastrophic events, ranging from vandalism, fires and water damage, to wider scale events including tsunamis, earthquakes and hail damage. One of the most high profile clients she represented was the Government of American Samoa following a tsunami and earthquake in 2009. As the primary estimator, she compiled estimates for over 60 buildings including schools and government buildings, navigating through cyclone season to ensure that the estimates were completed in a timely manner.
Personal Commitment
Erin's attention to detail and hard work ethic make her a strong member of the Adjusters International team. Her collaboration with its public adjusters often finds significant differences in proposals and estimates provided by insurance company adjusters, which usually results in an increase in compensation for clients. Her goal is to make sure the process runs as smoothly as possible for the client. Erin's experience in the construction business provides her with a solid perspective on how difficult and important the restoration process is, and gives her insight into additional costs that might be overlooked by the less experienced.
Erin's demeanor puts clients at ease and leaves them with a strong sense that her work product will be thorough and that the team that they have entrusted their claim to will be efficient and professional.
Member
National Association of Public Insurance Adjusters (NAPIA)