Earthquake Damage – Residential Insurance Claims Assistance
Since 1970, Adjusters International has handled earthquake damage insurance claims for thousands of homeowners, including the 1983 Coalinga earthquake, 1989 Loma Prieta earthquake, 1994 Northridge earthquake and the 2001 Nisqually earthquake.
Suffice to say, that you 'took the bull by the horns' and turned my insurance company around. There is no question in my mind that your expertise and tenacious approach to my claim provided a very favorable settlement. The benefits of your service far outweighed your cost.
Sergio Mendes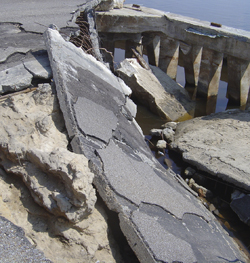 You just suffered serious earthquake damage to your home and are wondering what to do next. You call your insurance company and wait for an adjuster to come out hoping they will have your best interests at heart. After all, they accepted your premium for years in a very nice way. Now you expect that they will "do the right thing."
You will soon discover that you've moved from the asset side of your insurance company's ledger (you paying your premiums on time) to the liability side of their ledger (they need to pay you for your damages). Often, the money they owe you now will far exceed any premium payment you paid or would pay in the future.
Unlike most other causes of residential property damage, earthquake is not an included peril in the standard homeowner policy and is instead covered under a separate policy or endorsement. Even the smallest of earthquakes can cause considerable structural damage to your home; therefore it is advisable to conduct a thorough inspection of your property after any earthquake. Every claim has a unique set of factors to take into account and it takes a seasoned professional to navigate through it all.
Knowing everything you possibly can about the "fine print" of your insurance policy before you have any substantive dialogue with your insurer is an absolute necessity. Know what you are covered for and how to claim it. What you say to your insurance company's adjuster and how you say it can make a dramatic difference in how much you get paid. The more you know, the better the results.
---
Factors to Consider
Following an earthquake, there are many factors that need to be taken into consideration. To help you navigate the process, we have put together several talking points for you to review. Having a full understanding of each of the below bullet points is crucial to documenting, filing, and successfully settling your residential insurance claim. If any of these questions give you pause, please feel free to reach out to us for a no-cost discussion about your claim.
Big deductibles demand that your claim be properly evaluated. How can you afford to rebuild your house with such a large deductible? Understanding strategies. Value engineering.
Successful evaluation of damages hinges upon a well-coordinated effort between engineers and construction consultants. Do you have the right experts lined up? Should you trust the insurance company's cadre of experts?
Are you familiar with how insurance companies have handled past earthquakes? What have they learned? How does it affect you?
Additional Items to Consider
Ensuing fire or water damage from an earthquake can change the coverages depending upon the policy.
What is concurrent causation? Why is it important in an earthquake claim?
How do you make certain that hidden damages are addressed?
How does a large-scale disaster affect recovery? Replacement/reconstruction prices?
How does a large-scale earthquake affect your additional living expense claim?
See the residential bullet points for more you need to know about residential claims.
Close
---
Adjusters International Can Help
Adjusters International's team of public adjusters are experts in maximizing your residential earthquake insurance claim. We will walk you through each step in the claims process and take care of the smallest details that go into filing the claim, from a thorough evaluation of your loss, to carefully researching, detailing and substantiating every aspect of your claim.
Adjusters International works exclusively for you. As such, you are assured that the work we perform on your behalf is never influenced by the insurance company's interests. We have a long list of satisfied clients who put their trust in our expertise and who can attest to the fact that we stick by our core principles, the first of which is to always look out for the homeowners' best interests. We are proud to put you in touch with our references. Chances are you will recognize many of them. Read what they wrote about us. After all, who really knows better than someone who has been through it before?
---
Earthquake Client References
In addition to almost 5,000 references on our list, some well-known names for whom we handled complex earthquake insurance claims are:
David Feiler & Joseph Meringo, Los Altos, CA
Dennis & Lynn Stacey, Los Gatos, CA
Edward & Valerie Garaventa, Novato, CA
Kathryn Bigelow, Beverly Hills, CA
Kenneth York, M.D. & Annette, Los Angeles, CA
Norman Lear, Brentwood, CA
Normand & Doraleen Fontaine, Los Gatos, CA
Robert S. Gaddis, Los Gatos, CA
Samuel F. Wood, Los Altos Hills, CA
Stanley Josephs, M.D., Los Angeles, CA
William Rush, M.D. & Linda, Los Gatos, CA
---
If you're suffering from a property damage claim, we can help! Contact us or fill out the form below: