Hail Damage Insurance Claims Can be Difficult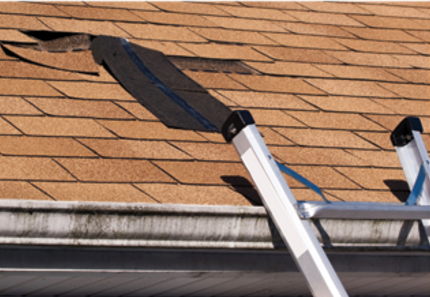 Following a major storm, a potentially serious, yet difficult-to-detect, type of property damage is hail damage. Often following a hailstorm, property owners and building managers don't even realize that their property has suffered hail damage. As a result a hail damage insurance claim may not be filed promptly.
It is prudent to investigate your property for hail damage soon after a hailstorm. Check to see if trees or flowers on the property are damaged, if cars parked in the open are dented, or if any of the buildings' windows are cracked. Window and door screens, siding, and air conditioners should also be closely inspected.
Roofs normally sustain the most costly hail damage, yet hail damage to asphalt shingle roofs is often not immediately recognized. It may take up to three years after a hailstorm for a roof to leak. For flat roofs, unless the hail is quite large (baseball size or more), it may be even harder to detect the damage until much later; which can have an impact on any hail damage insurance claim.
Insurance claims for hail damage, as with other types of property insurance claims, require a prompt notice to the insurance company. It is important that the scope of damage be identified early on in order to support a successful a hail damage claim. Even if hail has seriously damaged exterior surfaces, it may not be visible to the untrained eye. Expert examination may be needed to identify damage.
Adjusters International assists in preparing, negotiating and settling your hail damage insurance claim. Our public adjusters are trained in how to evaluate hail damage and record the full extent of your loss.
---
Our public adjusters help you get what you're entitled to by:
evaluating your commercial insurance policy to establish the best possible strategy for presenting your claim to the carrier;
valuing, documenting and substantiating every detail;
negotiating on your behalf with your insurance company;
keeping you informed every step of the way; and
ultimately settling the claim for the maximum amount and with less hassle for you.
Public adjusters work exclusively for you – the policyholder – never for the insurance company.
---
Who have we helped?
You were there for me when I needed you…emotionally and professionally. You took the time to explain those things that needed explaining and you had the expertise to get the job done…quickly, efficiently and graciously. Your expertise resulted in a 100% increase in my settlement. The peace of mind you gave me as I observed your professionalism and competence in preparing the necessary information needed to resolve my claim had a calming effect and allowed me to go about my business without concern.
Jacqueline Lerman/Jackie Collins
Our insurance claims experts have helped thousands of homeowners across all types of industries. We encourage you to look through our references and testimonials and to contact us for recommendation letters. An internal review showed that our clients felt we delivered what we promised and would work with us again—facts we are proud of. We welcome the opportunity to put you in touch with past clients so you can ask them yourself.
---
Resources
Listen to our podcast titled "Hail Damage Can Create Difficult Insurance Claims" for tips from our experts:
For additional information, visit:
---
If you're suffering from a property damage claim, we can help! Contact us or fill out the form below: